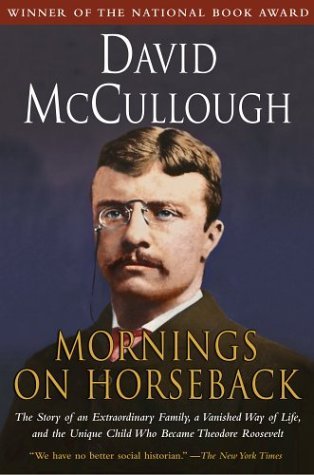 To kick off Nevermore this week, we welcomed back an old friend to our midst and eagerly listened to her review of David McCullough's Mornings on Horseback. A National Book Award-winner, Mornings on Horseback: The Story of an Extraordinary Family, a Vanished Way of Life, and the Unique Child Who Became Theodore Roosevelt was a fascinating biography on the Roosevelt family and the indomintable Theodore Roosevelt. Our reader was particularly impressed by McCullough's incredibly thorough—and highly detailed—biography, especially since she had read it during a visit to Medora and the Theodore Roosevelt National Park in North Dakota. She was fascinated by the personal correspondences of the Roosevelt family, which McCullough included, saying she was struck by the amount of insight they offered into their family life and, more importantly, how the Roosevelts' would sometimes navigate around personal issues (such as Theodore's ill health, or his brother's mysterious addiction, or his sister's childhood injury). Overall, she said it was a fascinating book and offered unparalleled insight into the Roosevelt family.

Next, our readers discussed Hearts in Atlantis by Stephen King. A dark and haunting collection of narratives, Hearts in Atlantis follows several stories that are deeply rooted in the sixties—and the Vietnam War. In "Low Men in Yellow Coats," eleven-year-old Bobby Garfield learns a haunting secret about his idyllic hometown and discovers that adults are not always rescuers, but dangers; in "Hearts in Atlantis," a group of college kids become addicted to a simple card game and discover the possibilities—and dangers—of protesting the war; while in "Blind Willie" and "Why We're in Vietnam" and "Heavenly Shades of Night Are Falling," recurring characters find themselves in a post-Vietnam America with the haunting images of the war lingering over their lives. Our reader said Hearts in Atlantis was a complex story that developed intriguing, fully-imagined characters. He called it an excellent novel, saying he finished it in just a week—and "at 672 pages, you know it was good," he said.
Switching gears from the Vietnam War, Nevermore ventured back to the early days of World War II with Jacqueline Winspear's favorite detective, Maisie Dobbs. In Journey to Munich, Maisie is once again drafted by the British Secret Service. This time, she's sent to Dachau to recover a recently released British prisoner—but there's a catch: she has to go under the guise of his daughter to whom she bears a striking resemblance. Not all is as it seems in Munich, and Maisie Dobbs must once more put her life on the line if she hopes to save herself and her mission. Our reader said Journey to Munich was a fantastic spy adventure with plenty of mystery and intrigue. She noted she became really attached to the characters, growing anxious when they were in danger and hoping for the best possible fate. She became completely immersed in the book, which is a hallmark of a good mystery.



Additionally, Nevermore looked at Morgue: A Life in Death by Vincent DiMaio. Gritty and enthralling, DiMaio's narrative is a look at the complex technology and craft of medical examiners, following his 40 year professional career—and spanning more than 9,000 autopsies (some of which made national headlines). Both informative and compelling, Morgue: A Life in Death is a fascinating that manages to chronicle the history of medical and criminal pathologists and offers insight into one of the most macabre—and intriguing—professions in the justice system. Our reader, who is an ardent fan of true crime novels and police procedural and mysteries, said she really enjoyed DiMaio's book. She loved the attention to detail and the author's personality, which shines through the entire narrative; moreover, she liked that it gave insight into what really happens in morgues and offered an intimate glimpse into the science behind criminal pathology. She had only high praise for Morgue, especially since pictures were included.



Last, our readers stopped to look at a classic: The Silmarillion by J.R.R. Tolkien. Taken from the stories he sketched throughout his illustrious career, The Silmarillion is a fascinating and enthralling look at the First Age of Middle Earth. Before The Lord of the Rings and The Hobbit, before even The Children of Hurin, J.R.R. Tolkein's Silmarillion explores the world of Middle Earth when the elves reigned supreme and the first Dark Lord set his sights on the three Silmarils, rings of power created by the most gifted of elves. Overall, our Nevermore reader enjoyed looking through Tolkien's collection. He said, "[It's] curious, but good." It's well-written and detailed, since maps and a lengthy appendix with additional stories, genealogies, glossaries and elvish dictionaries are included, reflecting much of the style that he liked in The Lord of the Rings; however, he was most impressed by the story. Intricate and beautifully written, he said it's an amazing novel for fans of Lord of the Rings and any of Tolkien's other works.